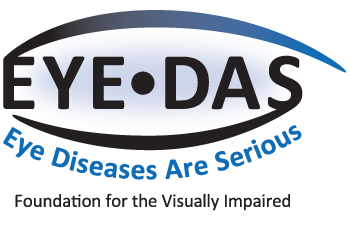 EYE-DAS

is an organization dedicated to helping the visually impaired in the San Gabriel Valley. Membership is open to any adult with impaired, partial, or no vision. Sighted individuals are welcome.

EYE-DAS

encourages those with visual problems to become more independent and lead a more productive and satisfying life.
What does  EYE-DAS mean?
EYE-DAS, an acronym for EYE Diseases Are Serious is pronounced "Ida's" in honor of Ida Fracasse who founded the organization with her husband Joe in 1975. EYE-DAS has been serving the visually impaired community since 1975. We provide members with resources, ongoing education, current information, problem sharing and social activities in order to enable independence and to improve quality of life.
What  do we do?
We Provide our members with:
Social Activities
Resources, education, & information on vision
Vision enhancement technology e.g., Close Circuit Television (CCTV) Reading Devices
Entertainment
Opportunities to encourage independence & improved quality of life
Resource Guide for the visually impaired (Click Here to download a PDF file of the Resource Guide)
EYE-DAS welcomes individuals with all types of visual impairments.
These include:
Macular Degeneration
Diabetic Retinopathy
RP (Retinitis Pigmentosa)
Astigmatism
Retinoblastoma
Eye Injuries
Glaucoma
Cataracts
Myopia
ROP-Retinopathy of Prematurity
Vascular Diseases (Stroke)
Cancer of the Eye
Optic Nerve Disorders
Cornea Deterioration
March 2015
Mon
Tues
Wed
Thur
Fri
Sat
Sun

23

24

25

26

27

28

1

2

EYE-DAS - West Covina Club - West Covina Senior Center

2501 East Cortez Street

West Covina

,

California

91791

626-331-5366

3

4

5

6

7

8

9

EYE-DAS - Glendora Club - La Fetra Center

333 E. Foothill Blvd

Glendora

,

California

91741

626-917-8235

Ham & Potato dinner with entertainment

10

EYE-DAS - Arcadia/Pasadena Club - Assistance League Building

100 South Santa Anita Boulevard

11

12

13

14

15

16

17

18

19

20

21

22

23

24

25

26

27

28

29

30

31

1

2

3

4

5
EYE-DAS Foundation welcomes your financial support.
EYE-DAS is NOT a medical facility. We do NOT do eye exams and We do NOT prescribe glasses.